A Spotlight on Dedication, Creativity, and Effectiveness: Jes Neal on the NDSA Excellence Awards
Jessica C. Neal (she/they) is an archivist, records manager, and memory worker. She is currently the Records Management Project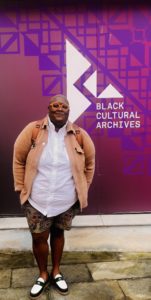 Manager at the Massachusetts Institute of Technology, and an archival consultant with Vanguard Archives Consulting. Jes's work centers archives, preservation, data management, and developing ethical frameworks to better steward digital collections and projects that specifically focus on Black-led and -created social movements, oral histories, art, and literary history and culture.
We caught up with Jes recently, and she offered her perspective on the NDSA Excellence Awards.
In what way are you connected to the National Digital Stewardship Alliance? 
I've been involved as a member of the NDSA since 2017 and have been fortunate enough to s
erve on the leadership branch of NDSA, the Coordinating Committee, since 2020. Passionate about the long-term preservation and stewardship of digital information, NDSA has been a great space to build my professional network, expand my digital preservation skillset, and give and receive support from colleagues at various stages of their digital heritage preservation efforts. In our current rapidly evolving digital landsca
pe, the need to preserve digital heritage is critical. As we navigate the challenges of format obsolescence, data integrity, and ever-growing volumes of digital content, recognizing and celebrating outstanding efforts in digital preservation becomes an essential endeavor.
From your perspective, what do the NDSA Excellence Awards represent?
The NDSA Excellence Awards were established in 2012 to highlight and commend all forms of creative and meaningful contributions by individual professionals, future stewards, educators, organizations, projects, and sustainability activities to the field of digital preservation. At its core, The Excellence Awards were established to recognize and encourage exemplary achievement in the field of digital preservation stewardship at a level of national or international importance. However, The Excellence Awards also provide a spotlight on the dedication, creativity, and effectiveness in tackling the multifaceted challenges of digital preservation.
What do you currently see as some of the biggest challenges in digital preservation?
Digital preservation is not just about preserving archival records, datasets, digital images, websites, and emails; it's about protecting our history, culture, and knowledge for future generations. In a climate of constantly evolving technologies, it is important that digital artifacts remain accessible and usable by wide and varied audiences. To that end, for as long as there have been digital artifacts, there have been archivists and records managers to implement preservation strategies.  
What efforts/advances/ideas of the last few years have you been impressed with or admired in the field of data stewardship and/or digital preservation? 
One aspect of ongoing digital preservation efforts that I've followed closely, admired, and participated in over the years is the evolving conversations, imaginings, and application of metadata as more than a record in cultural heritage institutions, especially those that collect and make accessible African American collections. Community involvement and applications of archival description afford marginalized groups to regain autonomy and ownership of their narratives, heritage, and history, while also amplifying historical injustices, social justice, and systemic racism which is essential to the preservation of cultural heritage.  
How do you feel the Excellence Awards encourage practitioners of digital stewardship/preservation?
Whether focusing on metadata and archival description, technological advances in systems and software, storage, creating resources, discovery and innovation of emergent digital preservation tools, collaborative road mapping of local and best practices, or developing digital preservation programs and policies, the work and ideas of practitioners is critically needed to ensure that the efforts of today are sustainable for tomorrow. Storage, sustainability, and the environmental impact of digital preservation are ever present challenges. It is only through collective sense making, creativity, and innovation that we together remedy these issues. 
One way to acknowledge and celebrate the achievement of information professionals and organizations is through recognition.  The NDSA Excellence Awards—in addition to DPCs Digital Preservation Awards—continues to be a means of inspiration, encouragement, and validation for our exemplary digital stewards, who remain committed to advancing digital preservation and stewardship.  
You can keep up with Jes on Twitter @JestheArchivist or Instagram @vanguardarchives!
The post A Spotlight on Dedication, Creativity, and Effectiveness: Jes Neal on the NDSA Excellence Awards appeared first on DLF.